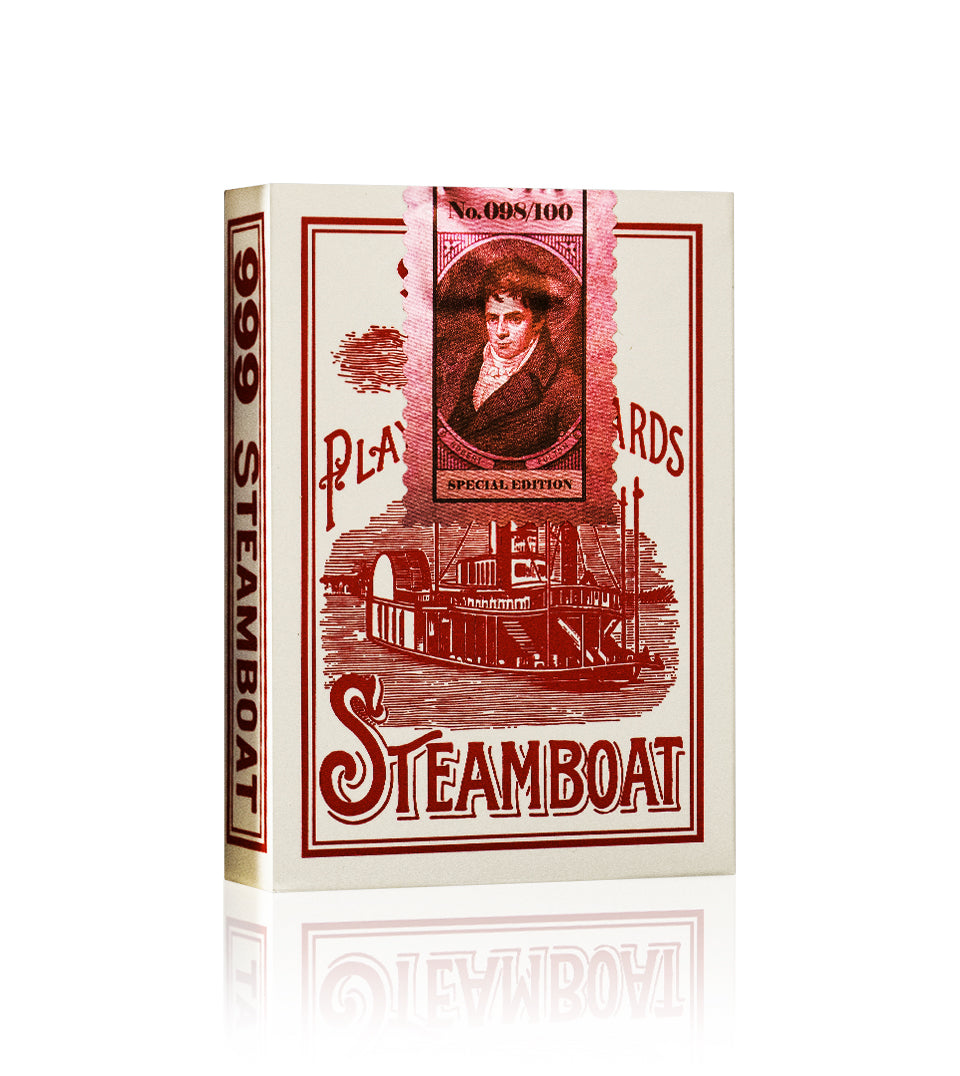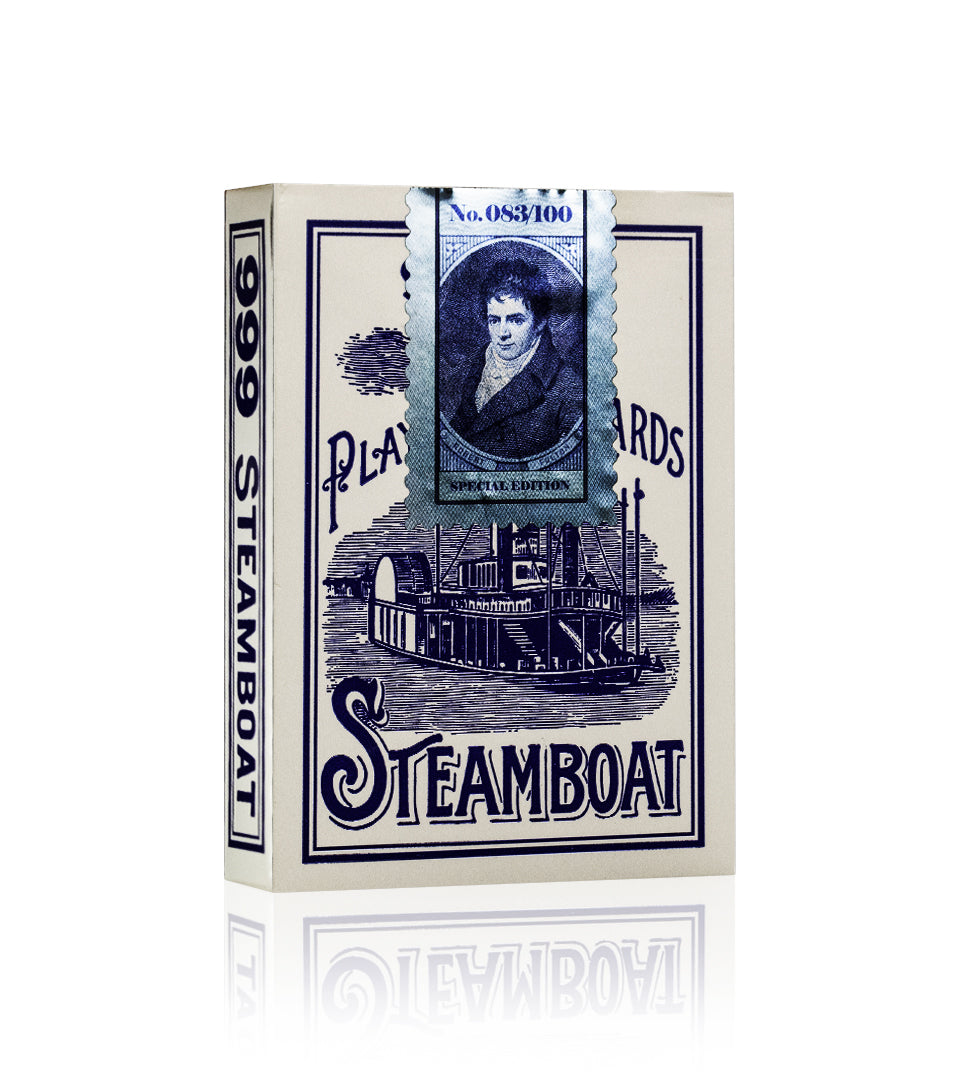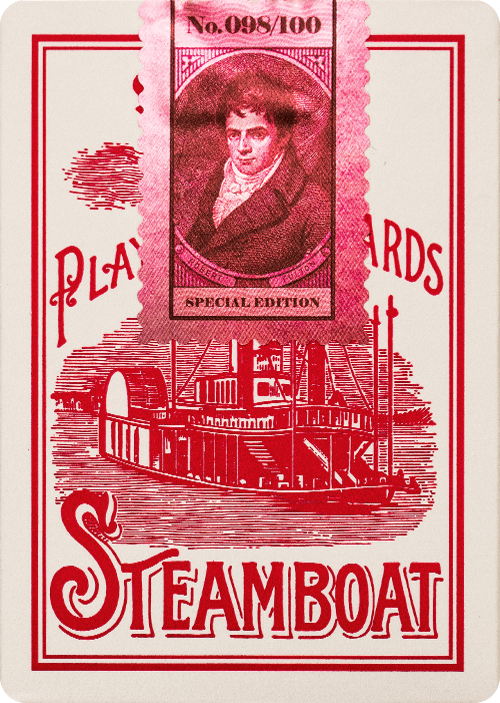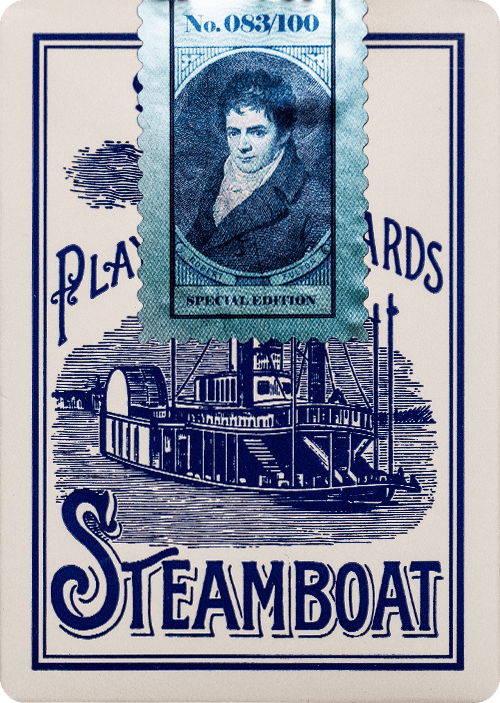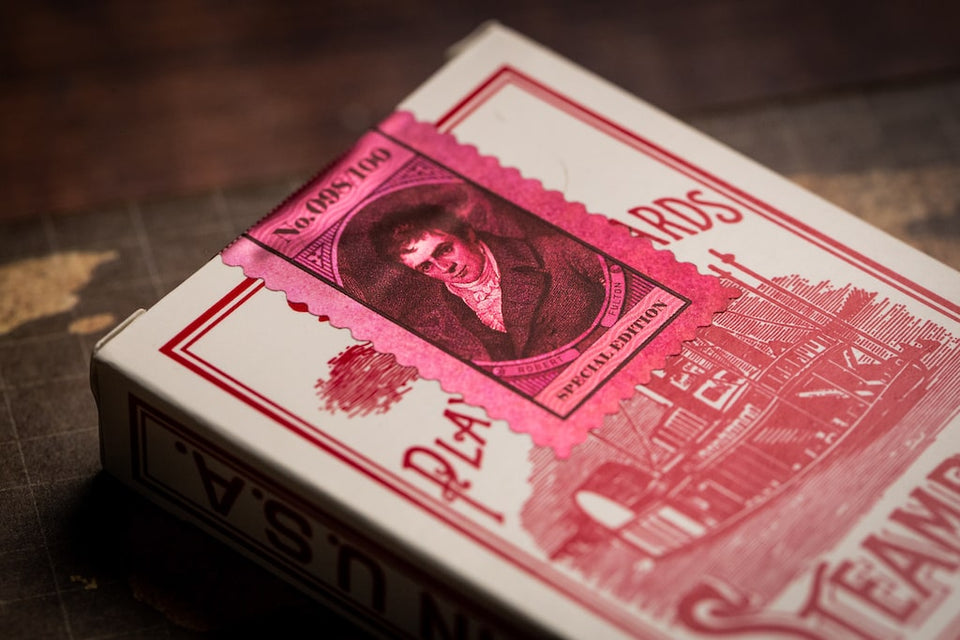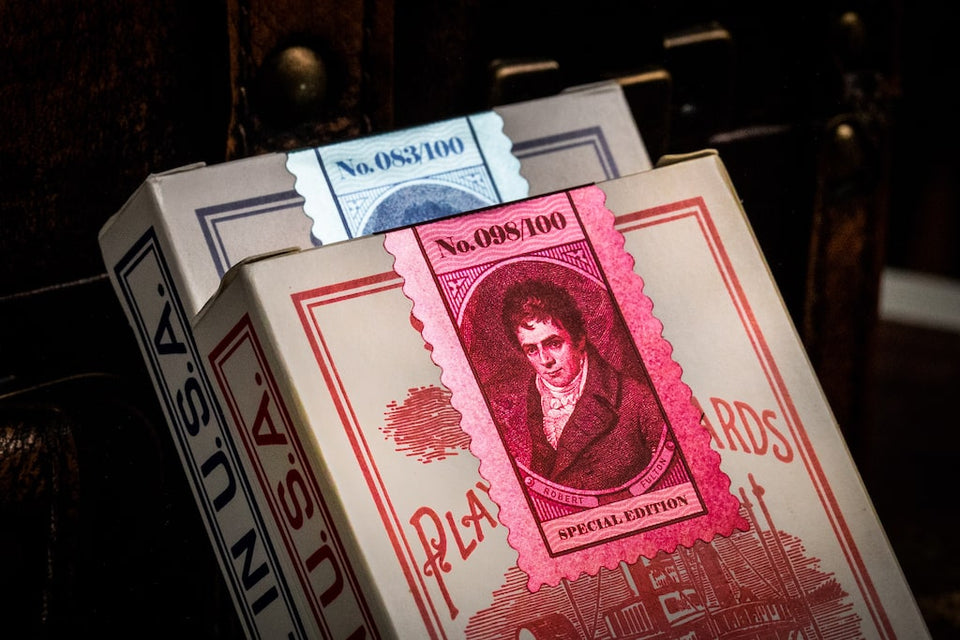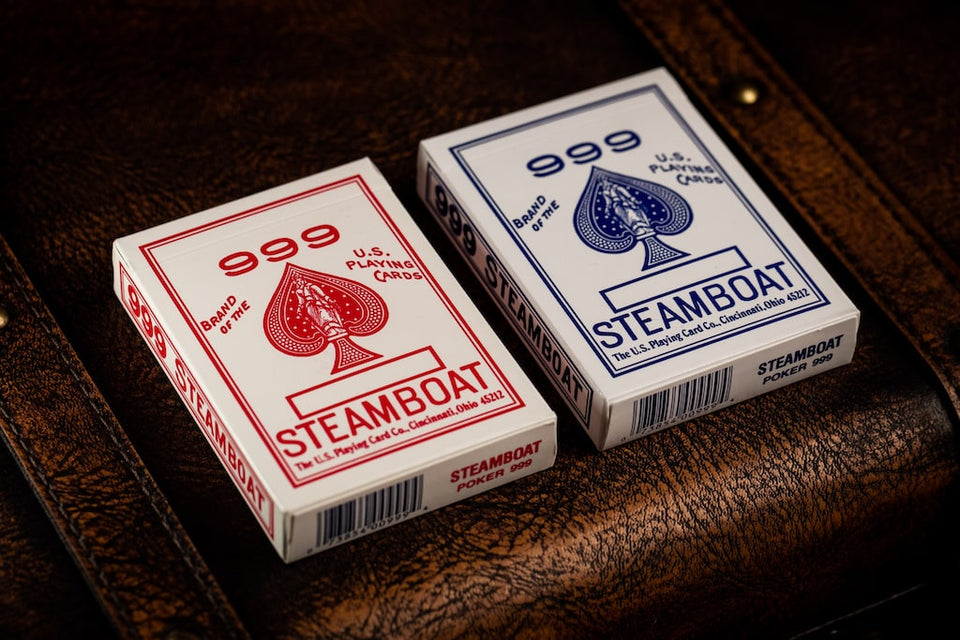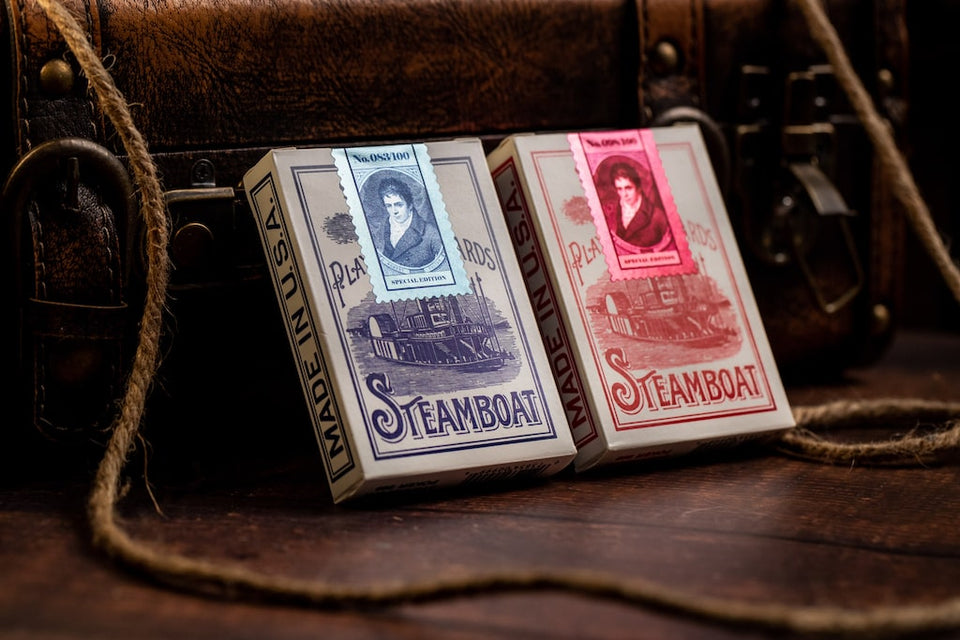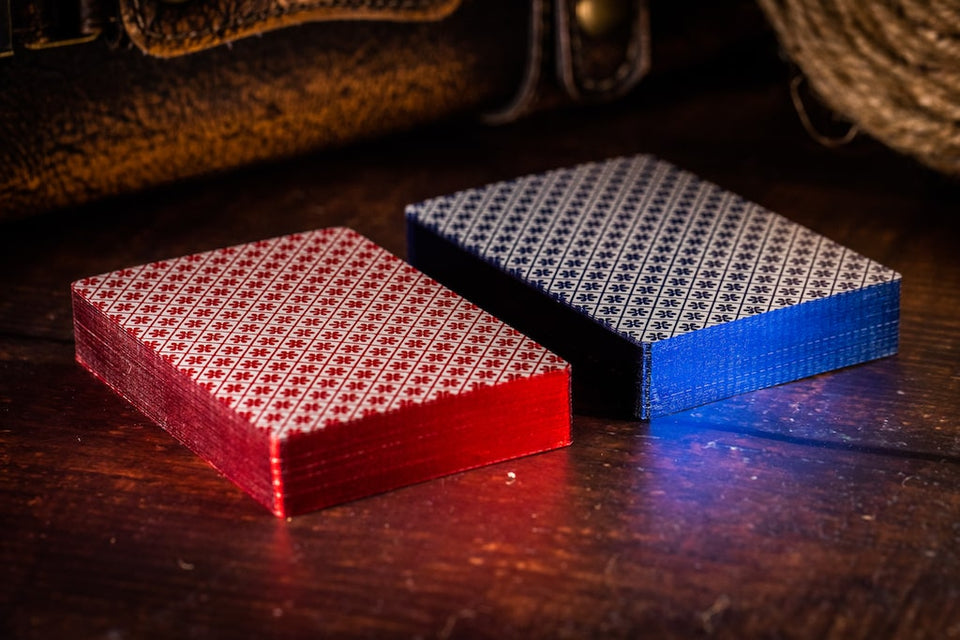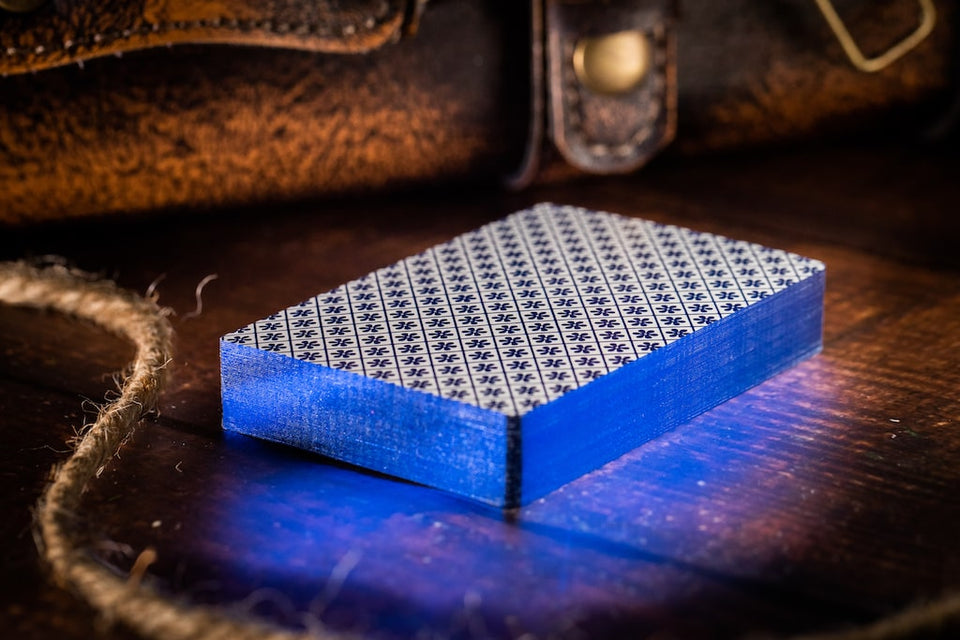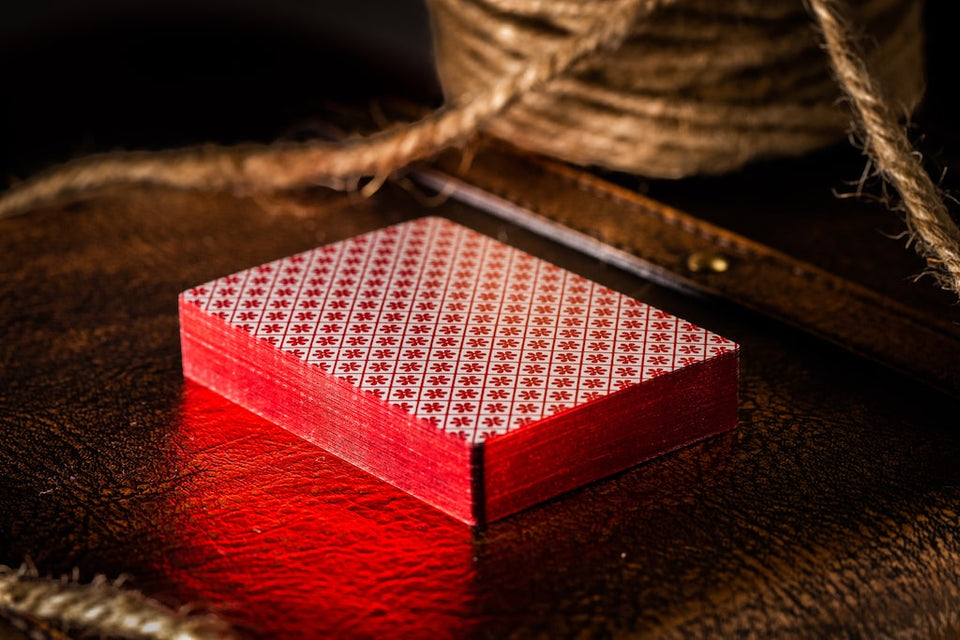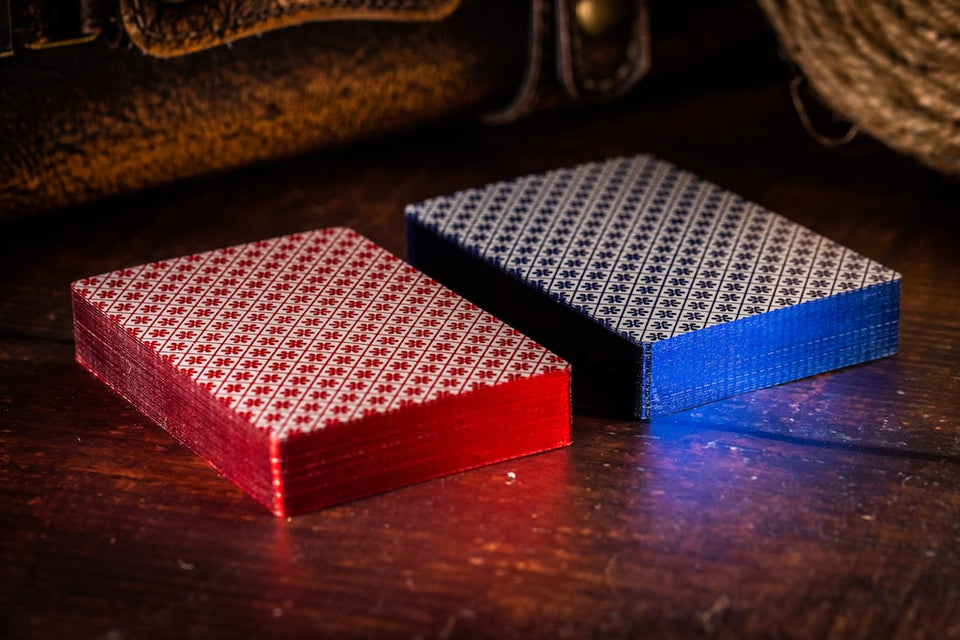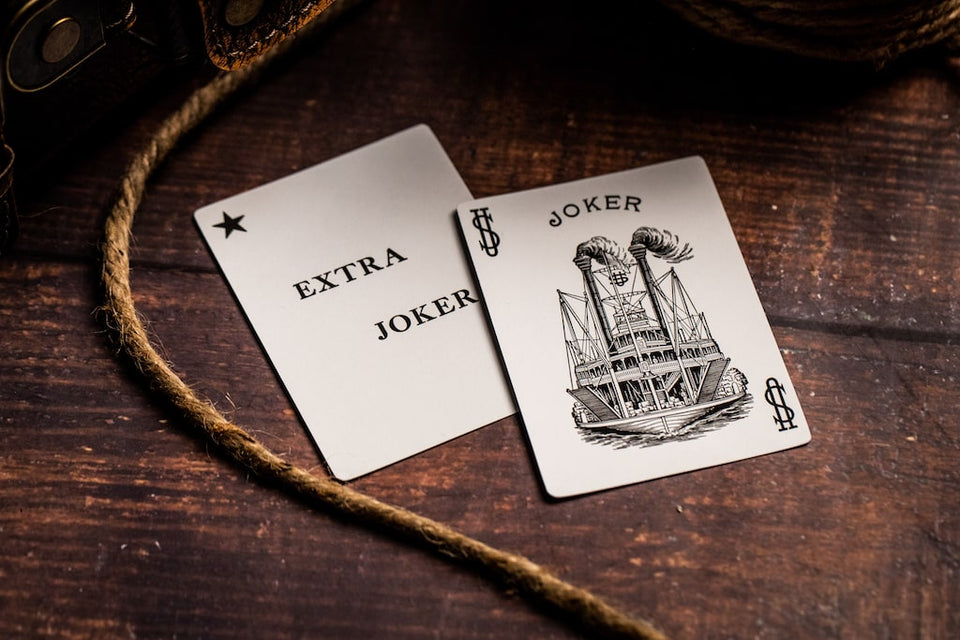 Foil-Edged Steamboat
by Riffle Shuffle Playing Card Co
 *LIMIT THREE SETS PER CUSTOMER.
FEATURES
- Authentic Blue-seal Cincinnati Steamboat 999 Deck
- Aftermarket Foiling Comes In Both Blue or Red Metallic Foiling
- Exclusive Artwork on custom numbered Fulton Seal
- Limited to 100 Blue Decks & 100 Red Decks with Numbered Seals
QUICK STEAMBOAT HISTORY
Steamboat cards are among the oldest brands of playing cards made in America. Card collectors, cheaters, gamblers, magicians, and cardists treasure them! Perhaps you own some of these wonderful cards? Though, they aren't easy to find. For such a popular deck, less than 100 Steamboat decks sold on eBay last year. It seems they are greatly valued. Also adding to their interest, nobody knows exactly who created this iconic brand. But we're delighted to share a newly-formed hypothesis with you.
Interestingly, it all starts with the Steamboat. Credit goes to the American inventor and engineer Robert Fulton. In 1807, he produced one of the most popular transportation modes in the early 19th century. In a short period, Fulton becomes a hero for developing his significant invention. Streets, bays, rivers, roads, etc., get named in Fulton's honor. Indeed, we also see playing cards named 'Fultons' found in old newspaper advertisements. Were these cards manufactured to celebrate him? Could this Fulton brand be the precursor to the Steamboat brand? None of these cards remain, so your guess is as good as ours. But our journey doesn't end here.
THE NEW HYPOTHESIS
In the 1840s, a popular card manufacturer named L.I. Cohen sold playing cards in America. In our opinion, it seems L.I. Cohen wanted to compete with these Fulton playing cards. Lo and behold, that's when he starts promoting a brand of cards called Steamboats. Or so the story goes. We don't think any of these decks survived time. And while little proof exists of this, an old L.I. Cohen deck wrapper that says Steamboat HAS surfaced. We've seen photos. To say it blew our minds is an understatement! Yet, there's no one left alive to confirm if anyone earlier produced Steamboat cards. That means, for now, it's still all a hypothesis. We may never know the precise origins of the famed Steamboat line of playing cards. But we like thinking; we're a step closer.
LET'S CELEBRATE
This momentous historical find offers playing card aficionados justification to celebrate! It also provides reason to do something we've never attempted before -- in a super limited fashion. We're releasing 100 sets of modified USPCC Cincinnati blue-seal 999 Steamboat brand playing cards!
We've painstakingly added metallic foil to all the card edges. To keep the deck pristine, we've returned the cards back to their original box and sealed them with an exclusive Robert Fulton numbered foil seal. Both red and blue metallic foil are available.
Want to own some of these decks? You must act fast.
These celebratory packs of aftermarket foiled blue-seal Steamboat playing cards are available for a mere 72 hrs. Buy them one at a time or together as a set. Super limited quantity available. If you wait, you'll miss out on a chance to own a piece of dope playing card history! After 72 hours, they're either gone or going back into our personal vault.
Act now.
Special thanks go to Shane Cobalt and Lee Asher.